After a looooong break and some home remodeling projects, I am back to blogging. Never to leave again! Or so I hope...
Our oven conked out on me a few months ago, and we only recently replaced it. Something strange took over my body. I donned one of my beloved vintage aprons, and went on a 3 day baking marathon! I swear I now have bread-kneading biceps that would rival that of Bruce Banner gone green. Pictured below, this is what happens when a carb deprived bread junkie gets a new oven...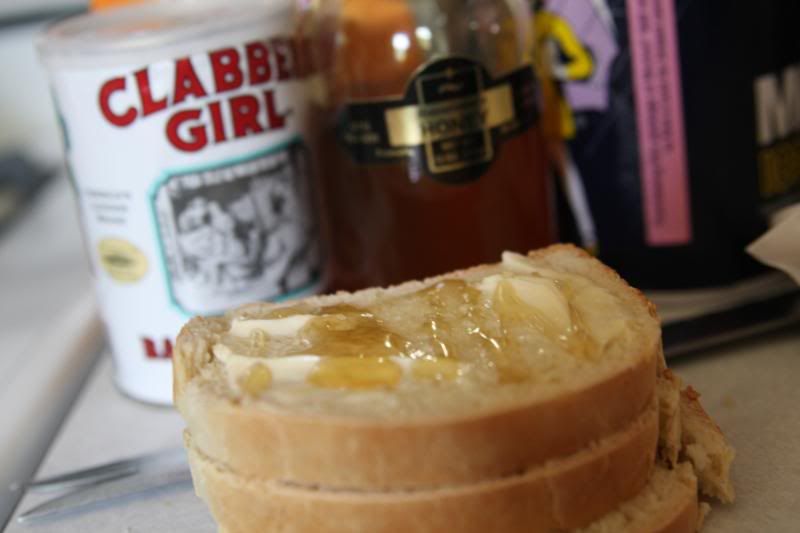 The honey buttermilk recipe below is my personal fave (I found it on the web and tweaked it), but I also did some
banana-oat bread
which the kids devoured. I couldn't stop at just bread, I had to hit up the first day of Farmer's Market to snag some INCREDIBLE local raw honey. I need to run today. Far.
Honey Buttermilk Wheat Bread
INGREDIENTS
1 1/2 (.25 ounce) packages active dry yeast
1 teaspoon white sugar
3/4 cup warm water (110 degrees F/45 degrees C)
1 1/2 cups buttermilk, room temperature
2 tablespoons unsalted butter, melted
3 tablespoons honey
1 tablespoon salt
3 1/2 cups all-purpose flour mixed with 3 cups whole wheat flour
DIRECTIONS
In a small mixing bowl, dissolve yeast and sugar in the warm water. Let stand until creamy, about 10 minutes.
Combine buttermilk, butter, honey and the yeast mixture in a large mixing bowl. Add salt and two cups of the flour. Whisk well to combine. Add the remaining flour, 1/2 cup at a time, mixing well with a wooden spoon after each addition. When the dough has pulled together, turn it out onto a lightly floured surface and knead until smooth and supple, about 6 minutes.
Lightly oil a large mixing bowl, place the dough in the bowl and turn to coat with oil. Cover with a damp cloth and put in a warm place to rise until doubled in volume, about 1 hour.
Preheat oven to 375 degrees F (190 degrees F).
Deflate the dough and turn it out onto a lightly floured surface. Divide the dough into two equal pieces and form into loaves. Place the loaves into two lightly greased 9x5 inch loaf pans. Cover with a damp cloth and let rise until doubled in volume, about 40 minutes.
Bake at 375 degrees F (190 degrees C) for about 30 minutes or until the tops are golden and the bottoms of the loaves sound hollow when tapped.